The only thing I would change would be to allow people to send in spreadsheets of the custom orders so that you don't have to tediously put it in the website.
13.07.2019

The only thing I would change would be to allow people to send in spreadsheets of the custom orders so that you don't have to tediously put it in the website.
13.07.2019

The only change is that you are in Europe but there is always an email waiting for me in the morning so I have no complaints.
12.07.2019

One other minor piece of feedback is that I did send several replies to the emails I received during the transaction including the feedback above. Maybe the email address sending them isn't monitored. But I didn't receive any replies at all...
27.06.2019

owayo response:
Dear Customer, we are sorry that you did not receive any replies to your e-mails. We read all e-mails in a timely manner and answer all questions to the best of our abilities. There was probably a technical issue responsible for your e-mails not reaching us. Sorry for the inconvenience.
Very professional - review procedures for images very prompt. Slight delay in receipt of samples but this (more likely) to have been due to UK Bank Holiday. Receipt of final jerseys made up for this however as received a few days i advance of scheduled deliver date.
24.06.2019

Overall, service is really awesome!
14.06.2019

Uber timely delivery.
12.06.2019

Really happy with the product and service. Always difficult to get all the sizing right with an order of this type but in the main we got it right. Lovely printing and the jersey is good quality. One improvement would be to be able to combine race fit jersey with sportive jersey and maintain the price for a bulk order.
07.06.2019

10/10
20.05.2019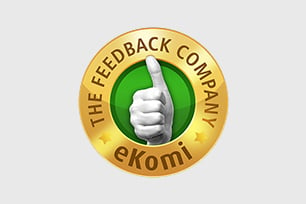 About eKomi
eKomi's goal is to track authentic customer reviews of various products. They offer a unique platform where consumers speak to one another based on personal experiences, and thus helping consumers identify reputable online businesses. We have been reviewed by eKomi since 2011 and have no influence on the ratings and feedback provided by our customers. Our customer feedback speaks for itself.